Bigg Boss 17 Release Date & Contestants 2023: Hidden Secrets Exposed!🔥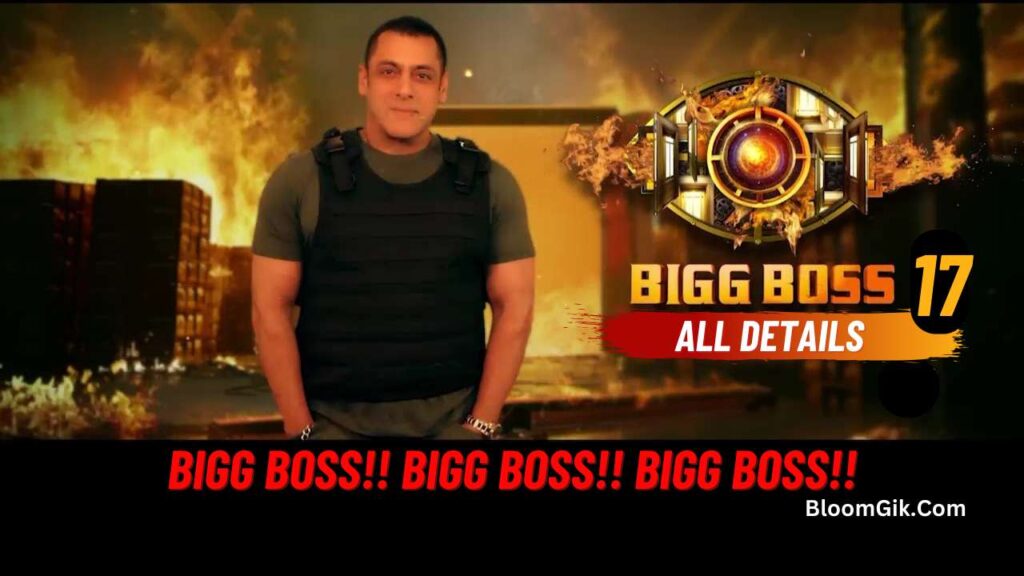 Excitement is building as the much-anticipated Bigg Boss 17 is gearing up for its grand premiere. With the first promo already out, revealing the intriguing concept of 'Dil, Dimag, and Dum' by none other than the charismatic host Salman Khan, fans are counting down the days until they can dive into another roller-coaster of emotions, drama, and entertainment.
After the resounding success of Bigg Boss OTT 2, expectations are running high for the upcoming season. In this article, we'll take you through everything you need to know about Bigg Boss 17, including the release date, starting date, and the eagerly awaited contestants for 2023.
Bigg Boss 17 Promo: A Glimpse of What's to Come
The first ever promo of Bigg Boss 17 has already taken the internet by storm. In this tantalizing glimpse, host Salman Khan unveils the intriguing theme of 'Dil, Dimag, and Dum.' With his signature style and magnetic presence, Salman Khan leaves fans eager for more. The promo hints at a season that promises to be filled with heart, wit, and action-packed moments.
Bigg Boss 17 Release date | Bigg Boss 17 Start Date 2023
While the official Bigg Boss 17 start date has not been announced yet, eager fans can expect the channel to reveal it soon via a promotional campaign. Reports suggest that the show might go on-air towards the end of October 2023. If history is any indication, considering that Season 16 of Bigg Boss commenced on October 1, 2022, and concluded in mid-February 2023, it's safe to assume that Bigg Boss 17 will entertain viewers for approximately four months, culminating in February 2023.
The Contestants: Bigg Boss 17 Contestants List 2023
One of the most eagerly anticipated aspects of Bigg Boss is the unveiling of the contestants. While the final list of contestants has not been officially released, several big names have surfaced as potential participants for 2023.
Names such as Ankita Lokhande, Aishwarya Sharma, Anjum Fakih, Arjit Taneja, Abhishek Malhan, Manisha Rani, Harsh Beniwal, Munawar Faruqui, Anjali Arora, and Awez Darbar have created quite a buzz among fans. As fans eagerly await the reveal, speculations and excitement continue to grow.
Bigg Boss 17 Contestants 2023: A Visual Treat
For fans eager to see the faces behind the names, Bigg Boss 17 promises to deliver. The anticipated Bigg Boss 17 contestants name list with photo will allow viewers to put a face to the names and start forming their favorites even before the show begins. The visual element adds an exciting dimension to the anticipation.
Where and When to Tune In
Bigg Boss 17 will be broadcast on the Colors TV channel and will also be available for streaming on Jio Cinema. The show is expected to air from 9:00 PM to 11:30 PM, following the familiar schedule of previous seasons. Additionally, fans will have the opportunity to catch live coverage on the OTT platform.
Bigg Boss 17 Winner 2023: The Ultimate Prize
While the journey of Bigg Boss 17 is just beginning, it's never too early to think about the ultimate prize—the winner. Contestants will vie for the coveted title of Bigg Boss 17 winner 2023. With numerous challenges, tasks, and twists awaiting them in the house, the journey to victory promises to be both challenging and thrilling.
Bigg Boss 17 OTT: An Extended Experience
For those who can't get enough of the drama, an extended Bigg Boss 17 OTT experience is on the horizon. The show's OTT platform will provide viewers with additional content, behind-the-scenes glimpses, and a deeper dive into the lives of the contestants.
Kab Aaega Bigg Boss 17? (When Will Bigg Boss 17 Arrive?)
The burning question on every fan's mind is, "Kab Aaega Bigg Boss 17?" (When will Bigg Boss 17 arrive?) While the official start date is yet to be announced, fans can rest assured that it's just a matter of time before they can immerse themselves in the captivating world of Bigg Boss once again.
Conclusion
In conclusion, Bigg Boss 17 promises to be a thrilling and entertaining journey, with its host Salman Khan and the 'Dil, Dimag aur Dum' concept setting the stage for an exciting season. As we eagerly await the official release date, starting date, and the final list of contestants for 2023, the anticipation and excitement among fans continue to soar. Get ready for another season of drama, laughter, and unforgettable moments inside the Bigg Boss house. Stay tuned for more updates on Bigg Boss 17!